"He's evil…he pressured me to have a child for him then added pain and sorrow to it" – Singer Lyta's babymama, Kemi, continues to drag him.
Singer Lyta's babymama, Kemi Ayorinde, has continued dragging him on social media, and in her latest update, she claimed Lyta pressured her to have the baby.
She described the singer and his management as "evil", and she revealed she used to feed Lyta when he had nothing.
She wrote ;
Let's be clear on one thing, I'm not the broke one here
This is someone I've known since he had 46k followers on IG, now on 1.7million but can't flaunt about having half of that money in his account.
Fed you, clothed you right to your fucking boxers, everything you asked for, you name it. I don't need y'all to understand but this man and his whole management are evil, very very evil and that's why I pray every morning and night that every pain and burden I experience in relation to motherhood may they all suffer for it a 100 times harder
Pressured me to have a child for him then added pain and sorrow to it, this pain, we will feel it together, end of story.
There is more to say, but let my child be one first, you know the rest Xxxx
All I want is an apology literally especially for one particular thing I've not mentioned 3)
And if I'm not getting that, anybody's image that wants to tarnish should tarnish abeg, make everybody gettat ,41!) e) op) tst
They got me prepared for this, I'm prepared for this, I love it here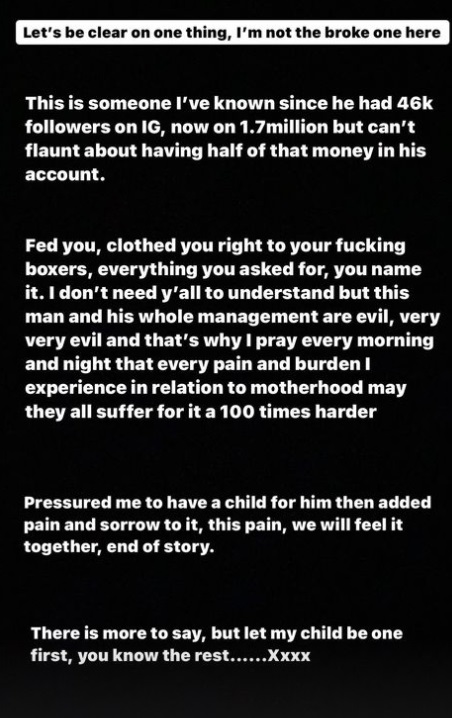 KEEP IN TOUCH
NOTE:- After Dropping your comment, Wait for few minutes, your comments will appear after Moderation!!